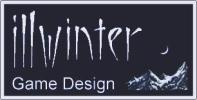 Illwinter Game Design, Links
Conquest of Elysium II
Dominions
Dominions II
Dominions 3
Conquest of Elysium 3
About Illwinter Game Design
Illwinter Related Links


Shrapnel Games is the publisher of Dominions II.




Falsobordone, medieval music. They made the medieval music for Dominions 2 & 3.




Mattias Westlund. He made the music for Conquest of Elysium 3.




Memento, medieval food and entertainment. They make Illwinter's medieval food.




Wonder anything about Dominions 3? This wiki is bound to have the answer.


General Links

Quarter to Three, discussion forum featuring games and politics.




Paul Soares Jr has a you tube channel with game videos. Mostly about Mine Craft, but also some videos about Conquest of Elysium 3.




Slash'em, great fun!



ADOM, great rpg game!



Dungeon Crawl, probably the best roguelike ever!



Ecocom makes omnibat. A program for automatic identification of bat sounds. Ecocom also has nice guided bat tours in the fantasy forests of Småland and Öland.